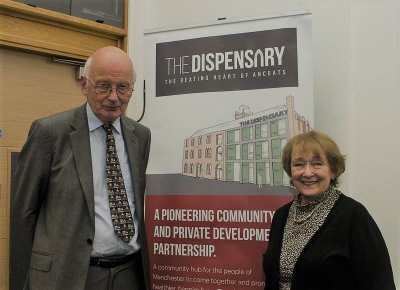 June Rosen – June trained as a physiotherapist at Ancoats Hospital in 1958 and she has never forgotten what a great training hospital it was. June's late father was Leslie Lever MP for the Ardwick & Ancoats Ward, later becoming the Lord Mayor of Manchester.
June remembers the chocolate machine in the hospital waiting room particularly well. This is featured in LS Lowry's 1952 painting 'Outpatient's Hall Ancoats Hospital'. June has been delighted to lend her support to the saving of Ancoats Dispensary and was involved in the 'Creating Our Future Histories' project in collaboration with Manchester Metropolitan University. June is seen here with Dr Michael Whitfield who gave a talk about the Dispensary Movement at the Friends Meeting House.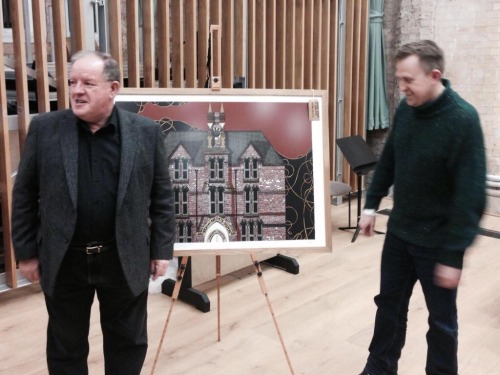 John Henshaw is very much an 'Ancoats lad' who lived in the area for many years. He is now a familiar face on both screen and stage, known as an actor who brings to life his characters with a typical down to earth Mancunian sense of humour. Ancoats hospital was familiar to John, having visited the outpatients regularly, following numerous scrapes from football and other childhood escapades. John is delighted to support the campaign and still visits the area whenever he can. He performed the role of auctioneer at our 'Share the Vision' event in 2014, helping to raise a fantastic amount from the sale of an exclusively commissioned art work.