I Want To Be A Nurse At Ancoats
I Want To Be A Nurse At Ancoats
What was it like to be a nurse at Ancoats in the 1960s? Well below are the memories of Liz McCafferty who trained as a nurse at Ancoats Hospital. It is a fascinating look at this period through the eyes of a nurse. Liz now lives in Felixstowe.
Chapters of the memories Liz had of her time at Ancoats Hospital were serialised in our ADT Newsletters.
"I WANT TO BE A NURSE AT ANCOATS" By Liz McCafferty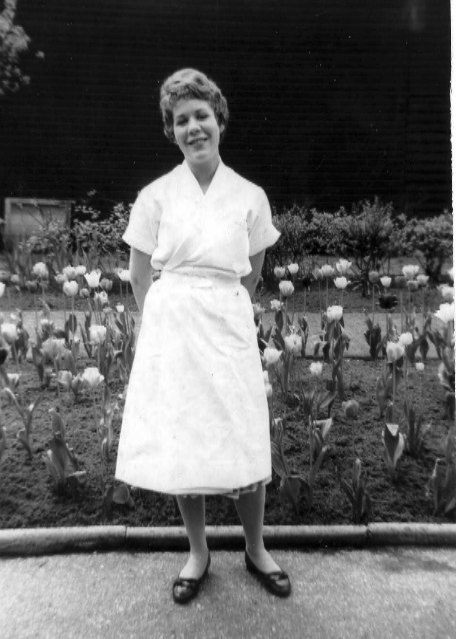 I was born in Droylsden, Greater Manchester in 1942 and this area was a far-flung part of the Ancoats hospital catchment area. We were sent there for out-patients' appointments, x-rays, physiotherapy and, of course, treatment on the wards. We would catch the bus and travel through Clayton, Bradford, Beswick and Ardwick. You held your nose as you passed Clayton Aniline dye works and always looked out for the wheels turning on Bradford Pit. Regeneration had not begun in these areas so you passed many more old factories, mills and Lowry type streets of back-to-back houses.
We got off the bus in Great Ancoats Street and walked up Old Mill Street. Lots of the buildings on the right had been enclosed with high fencing and I never found out what they were concealing. There were rows of decrepit back- to-back houses on the left with a pub on the corner opposite the hospital.
One vivid and embarrassing memory I have was when I was taken to the out-patients for some disorder or another and was given an enamel jug. "Go and put some water in there for me", said the nurse. Happy to help I found the nearest tap, filled the jug and gave it to the nurse. It was, of course, the wrong sort of 'water'.
When I was 16 years of age, having left school at 15yrs with only commercial qualifications, I was working as a shorthand typist at the National Coal Board in Manchester. My uncle was a patient on Armitage Ward for several weeks and I think he was quite surprised by the frequent visits from his niece who had never taken an inordinate interest in his welfare before. I just loved watching the work going on in the ward and so wished I could be part of it.
I made a 'phone call to the General Office and was invited to come in and speak to Mr Dafforne who was the Chief Administrator at that time. He was such a lovely person and having found out that I could only offer shorthand and typing skills (not very useful on the wards at that time), did not send me away empty handed. He offered to add my name to the list of cadet training places to start the following year when I was 17yrs. In the meantime, I had to start getting some GCSE's especially in English and Maths.
I had shown little interest in academic work as a young person, apart from being an avid reader, so I set about starting night-school courses and worked really hard. I managed to get 3 GCES's but failed Maths and thought that would be the end of my ambitions as 5 were required. However, Mr Dafforne informed me that he thought I had the necessary motivation and attributes for nursing and allowed me to start the cadet scheme but with a day release to further my academic qualifications at St John's College.
I have often wondered whether Mr Dafforne's methods of recruitment would be valuable in hospital recruitment for nurses today.
You could become a cadet nurse at age 17 years of age. Any training given was by the sisters and nurses on the wards and the staff in the other departments you were allocated to. We worked from 8.30am to 5pm with a half-day Saturday and day off on Sunday.   On my first day our group were sent to the Sewing Room where we were given our cadet uniform - a heavily starched, white, wrap-around overall which we all hated. It certainly did nothing for our 17-year-old youthful figures and made us look like attendants at the public baths or lavatories!   I started off in the Records Department where we were given daily lists of patients who were detailed to attend the Out Patients Clinic the next day.
  There was a room full of metal shelving units reaching ceiling high. Health and Safety not being considered at this time and being provided only with short step-on ladders we were obliged to climb the actual shelves themselves to reach records which were often thick and heavy. You sometimes needed to balance them on your head to get them down. There were always one or two missing and that meant journeys to X-Ray, Physio, Medical Secretaries and Pharmacy in an attempt to provide the complete list.   Then, joy of joys, I was back on Thomson and Armitage Wards with Sister Robinson and Staff Nurse Irene Russ, whom I idolized. There was no hanging around or given time to observe. It was straight into being taught how to make the beds and then assisting nurses actually making two rows of them and those corners had to be perfect.  I was immediately helping with bed baths, giving and taking away the bed pans and entering the results onto the Intake and Output Charts hung at the end of the beds.
  An important job for us, after patients were discharged, was sterilizing the rubber coated mattresses with carbolic acid solution and scrubbing out the wooden lockers with the same solution - not very good for the hands and no rubber gloves around for protection. The pillows would be hung over the fire-escape railings overlooking the canal to sterilize in whatever sunlight was available.   Meal times for medical patients was very important and Sister Robinson took charge of this task herself. She would measure out the correct diets at the big food trolley which was wheeled into the centre of the ward. She would then hand out each patient's plate and send a member of staff, including me, to help feed those patients who needed help. If they took very little or refused their food Sister would need to be informed. The patients were also weighed on admission and then weekly with results being entered into their records.   We were also used as ward messengers - collecting X-Rays, taking the blood samples to the Laboratory, borrowing equipment from other wards and taking verbal messages to all and sundry. We were not at that time encouraged to have cosy chats to the patients unless we were in the process of attending to them. If Sister thought you were wasting time 'chatting' or spending too much time in the sluice then your surname would be called from the other end of the ward and another job would promptly be given.   By the end of my cadet year, I knew every area of the hospital and its personnel. I was fairly proficient in all basic nursing care and knew the routine of one ward quite thoroughly. All this and I had not yet started in the Preliminary Training School for State Registration Nursing.
  We were given a pittance weekly maintenance wage but I can't remember anyone complaining as in exchange we received a good deal of professional and very practical training on the ward itself. I also met many friends during this year who were with me for the next 3 or 4 years and who are still my friends today.
  Why the cadet nurse scheme is not used in some form today is beyond my understanding".
It was a rule in the 1960's that you had to live in the Nurses Home during your first student nurse year. I was quite looking forward to this as I was ready to leave home and from Ancoats you were in walking distance to the centre of Manchester. The rooms were really spacious with built- in wardrobes and drawers along one wall, a wash basin the corner and quite comfortable single beds. The views, not surprisingly, were poor from the windows but in summer we would go up to the top floor and climb out of a window onto a flat roof to sunbathe. This was totally against the rules but nobody could see you so we were never found out. The views were no better of course though you could see the tower of Strangeways Prison - home to some of our patients. I think there must have been central heating in the rooms as I can only remember being cold in the shared bathrooms. There were two of these spartan tiled rooms on each floor all of which had enormous iron baths and no shower. They were so inhospitable and cold we often resorted to stand-up, all-over ablutions in our rooms. In those days few people bathed or showered every day - or maybe that was just Manchester - it was 'grim up north'!
The nurses lounge was enormous with a big bay window, a grand piano and two fireplaces at either end of the room. I never witnessed any form of racism at Ancoats, and we got on well with the West Indian and African staff on the wards, but it was a strange fact that the black nurses gathered round one fireplace and the white ones round the other. I can remember, though, being taught to do a West Indian dance they called 'The Mashed Potato' and having my first taste of goat curry at an African student's wedding. We had a large radiogram and I can remember only two long-playing records ever played - Ella Fitzgerald and Frank Sinatra.
No alcohol was ever allowed to be consumed in the Home, even at the occasional party's we were allowed to hold though I do remember one of Lab technicians brought some pure alcohol to mix in the jugs of orange juice. You could receive telephone calls in the foyer - if you managed to hear someone yelling out your name, but you were not allowed to make them. To do this we had to use the really old-fashioned horn type telephone hung high in a smelly kiosk in the Outpatients waiting room. Lowry's painting has it on the right of Admissions but it was in a corner on the left.
Sister Deasy was in charge of the Nurses Home and organized allocation of rooms, changing of bed-linen and towels and discipline within the Home. She was also in charge of domestic staff as we did not have to clean our own rooms. We did our own personal laundry in the basement Laundry Room. The front doors were locked at around 10pm and if you wanted to stay out later you had to apply for a 'late pass' which allowed you to be let in by the night porter, however at times social events did run over time and the latter had to be bribed with a large amount of charm and flattery or, as a last resort, a pack of 10 cigs.
Apart from the lack of some of our freedom most of us enjoyed the community living of the Nurses Home. Easy walking access to the centre of Manchester allowed us to visit cinemas, theatres and concerts with relative ease. There were often free tickets to theatres and events pinned onto the notice board and we certainly made use of them in our off-duty time.
We had to do our first night-duty in our first year of training and we all dreaded it. From being the very junior student on the wards, apart from the cadets, you were suddenly plunged into being in sole charge of a whole ward for a six- eight week stretch of twelve-hour shifts. We would glean what we could from our senior colleagues about routines and treatments as I cannot remember any sort of training or preparation for this ordeal. We assembled at 7:45pm in the corridor outside the dining room and Night Sister would check us all in and announce which wards we were to work on. She handed us each a sealed envelope which contained a note written by the last night nurse in charge of this ward. This could be a bit of a life-saver as it contained more personal information about the patients and routines which would not normally be written in a formal ward report book. We might be tipped-off about any inappropriate behaviour to watch out for and who might be willing to help give out the bedtime drinks and breakfasts - no domestic staff on night duty in this period. Strangely the male patients were the most willing helpers and we salved our consciences by believing it was good for them to be moving about if they could.
My first night-duty on Cawley was a female ward for orthopaedic patients, though the majority of these were elderly and some of them could have been on the ward for months. Most of these patients required turning and treatment to pressure areas 2 or 4 hourly. If you were lucky a 'runner' (usually an auxiliary nurse who moved between two wards) would help with the really difficult or heavy patients but often you would have to carry out most treatments by yourself. The runner would also relieve you for dinner and tea breaks and for one-hour rest in the middle of the shift. This odd hour was introduced when the maximum hours of work were reduced from 48 to 44 hours per week and the night shifts were timed from 8:00pm to 8:00am. If no runners were available these had to be missed.
Night duty on Jardine and Rothwell and Gaddum and Johnson was much preferred as the wards were adjacent and so you had professional support and company. However, on the newer block, Thomson and Armitage and Ogden and Cawley, you felt very isolated - the only professional support being Night Sister who was often busy with emergencies all over the hospital including Theatre and Casualty.
Night Sister would do a round of each ward every night. On her arrival you were expected to know the names and medical conditions and give a verbal report on each patient on your ward. There was much snatching up of the charts from the end of the beds in order to remind oneself. On Cawley Ward I had the renowned ghost, 'The Grey Lady', to watch out for though fortunately she did not appear on my watch. The sluice room cockroaches, however, did appear with morbid regularity. It was a rule that sluice room lights had to be turned off when leaving the room and this was the signal for cockroach attack. When the lights were turned on, they would all scuttle away like a moving black sheet which was a stomach-turning sight to see. Holding a bedpan in my left hand, I found the trick was, to lean in, switch on the lights and wait for a few seconds before entering. Where do all those Ancoats cockroaches go now and will they return?
Coming off night-duty and back into the world of normality was bliss and to celebrate we would make a visit to a very posh hairdressers in St Peters Square which offered cheap hairdressing vouchers to student nurses. You lay on chaise lounge under the dryers and often had to be shaken awake by the hairdresser. It was then quite important not to go to bed until night time, not only for the preservation of the hairstyle but to get back into a normal sleep routine.
This is Liz McCafferty's final chapter and we would like to thank her for all the articles we included in our newsletters as they made for such an enjoyable read.