Creating Our Future Histories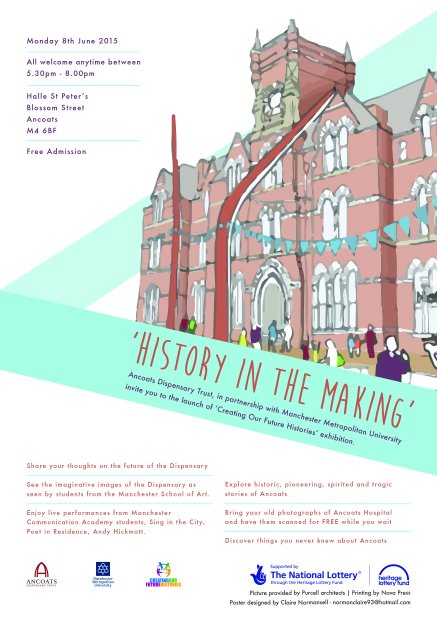 https://futurehistories.mmu.ac.uk/research-groups/ancoats-dispensary-trust/
In September 2014 the Manchester Metropolitan University invited Ancoats Dispensary Trust to take part in a groundbreaking project.
The University was, for the first time, inviting academics to partner a community group of their choice and explore the ways in which they could assist the group in whatever their aims and objectives were. The project was entitled 'Creating Our Future Histories'.
Apart from the academics, one of our Patrons, June Rosen, also took part in the process whenever she could. A student attending the MMU Creative Writing Course also attended as he felt he could contribute to the project. Ultimately, the project continued through the Spring of 2015 with members of ADT meeting at week-ends at the Peoples History Museum where workshops with other groups took place. The project resulted in an exhibition being held at Halle St Peters entitled 'Creating Our Future Histories'.
The academics did all the research about Ancoats and the Dispensary and to promote and engage the public they produced a wonderful 'blog' for our website entitled Ancoats in 100 Objects.