Fight to Save the Dispensary
In 2011, due to a lack of proper public consultation, it was purely by coincidence that the community discovered 'their Ancoats' was about to be demolished. This was discovered during a meeting of the Ancoats Residents Forum towards the end of 2011, a presentation was given by Urban Splash during which slides were shown of the proposals for the redevelopment of New Islington and Ancoats. These included the marina and canalside apartments with cafes, all illustrated with vibrant, continental-style images.
No-one could see the Ancoats Dispensary and so the question was asked: "Where is the Dispensary in this presentation"?
A heavy silence hung in the air, a pregnant pause pervading the room before somebody from Urban Splash revealed very quietly "The Dispensary is being demolished."
Present at this presentation was a long-term resident of Ancoats, someone who had been a patient at Ancoats Hospital on numerous occasions. On discovering that the case for the proposed demolition was due to be heard at the Planning Committee in November 2011, the resident attended and objected to the proposal. The case was deferred until later that year. Again, at the next meeting the resident this time objected due to the heritage and medical advancements that had taken place at Ancoats Hospital, stating that the area would lack any historical fabric should the Dispensary be demolished. Again, the matter was deferred.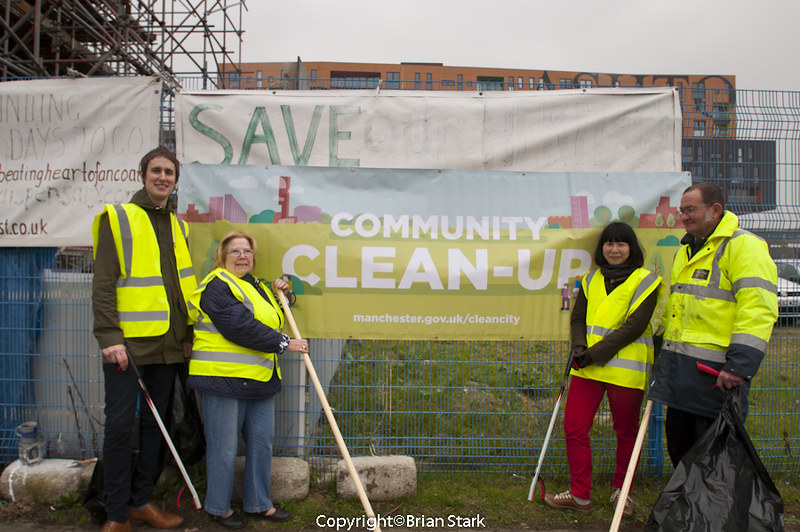 By Spring 2012, this news had quickly spread throughout the surrounding neighbourhood and, within the space of a few weeks, a Public Meeting was arranged, alongside a telephone tree which was established to alert the group of volunteers should any movement or road closure take place. In short, a campaign was formed that was to last until 2017. Made up of volunteers from all walks of life, this campaign began without any money, without a plan amd without a base to work from. In spite of this, the hardworking and tenacious volunteers were committed to challenging the proposed demolition of the Dispensary by any means necessary; they recognized that something precious was about to be swept away. A part of their working class cultural heritage was about to be cast aside without any detailed public consultation.
During one of the early meetings, a member of the group suggested that a presence should be mounted at the Dispensary to give her protection and so it was that The Vigil was created and Fight to Save the Dispensary, the official title of the group, was born.